Physiotherapy in Langley
Physiotherapists are primary health care professionals with a significant role in health promotion and treatment of injury and disease.
They combine their in-depth knowledge of the body and how it works with specialized hands-on clinical skills to assess, diagnose and treat symptoms of illness, injury or disability.
Can Help Treat Many Types of Ailments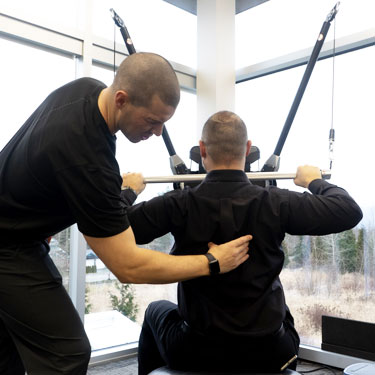 Physical therapy attempts to address the illnesses, or injuries that limit a person's abilities to move and perform functional activities in their daily lives. Physiotherapy can help treat many types of ailments such as:
Back pain
Sprains or strains
Arthritis
Posture Problems
Sport and Workplace Injuries
Reduced Mobility
And much more!
Our Physiotherapist will use your individual history and physical examination to arrive at a diagnosis and establish a management plan and, when necessary, incorporate the results of laboratory and imaging studies like X-rays, CT-scan, or MRI findings.
Treatment Plans
Treatment plans vary depending on your individual needs but may include the use of manual therapy, exercise therapy, shockwave therapy, cold laser and/or acupuncture.
Please give us a call if you have any questions or to schedule an appointment.
CONTACT US »

Physiotherapy Langley BC | (604) 888-1533